In this article, we will discuss the Telenor balance save code service in detail. This is an amazing balance lock service that is launched by Telenor to save the sim balance. If your balance is also deducted from your sim accidentally so you can also check how to save Telenor balance.
We should discuss why Telenor has offered this service. You might have seen at times that your sim balance was deducted without any notification. It can happen in light of the fact that you might be utilizing the internet data connection without having any internet package on the sim.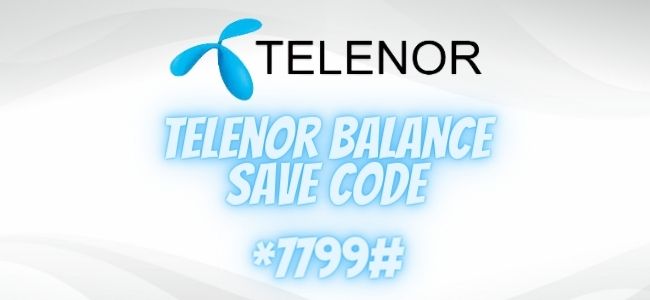 Today, Telenor has more than 43 million loyal customers in Pakistan. Telenor is continuously improving human beings-to-human contacts and capability. And for those human beings, Telenor continually attempts to come up with high-quality offers and services which could help their customers.
So, by activating this service, you can save your balance when you do not have any internet package. In case you forget to turn off the data service after the internet package expires or you turned on the data service while having zero internet data MBs left. Here are the details of Telenor balance save code.
Telenor Balance Save Code
Telenor balance save code is *7799#. This is a simple code that can save your balance when you don't have any internet MBs and you forget to turn off the data service. Here are the details on How to Save Telenor Balance:
Open your phone app
Dial the code *7799#
You will get a confirmation message of the subscription
This service is completely free of cost
This balance save or lock code service is very simple and you can use it for free without the tension of resubscribing it. So, this service will save your balance when data is on and you don't have any internet package active.
This was all about Telenor balance save code and after subscribing to this service you don't need to worry about your sim balance. Also, check out the Telenor mb check code.
If you have any questions you can ask freely in the comment section or visit Telenor's official website. And if you like the information, you can share it with your friends and family. Thanks.