In this article, you can get details about Zong SMS Packages Monthly, Weekly, Daily Prepaid, and Postpaid. Zong provides free and unlimited SMS to all networks of Pakistan at Low Rates. So, Zong weekly Sms Packages are very popular among all network companies.
Zong offers cellular mobile voice and data services to the Pakistani market through 2G, 3G, and 4G technologies. Even more, Zong has more than 26 million users and a market share of 20%, as well as 4G coverage. And its coverage is expanded to more than 100 cities in Pakistan but this number is also increasing.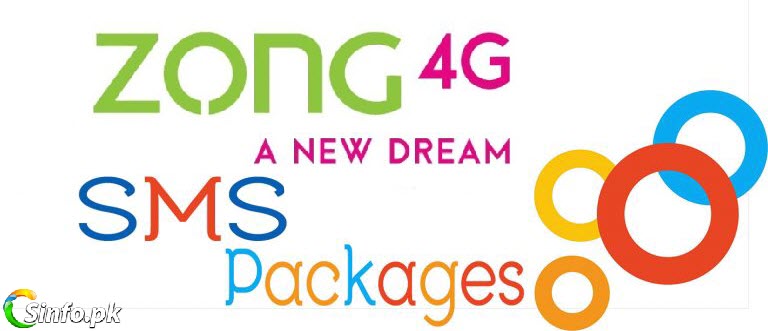 Zong users can activate all packages online through the My Zong App. The company has designed these packages to be removed intelligently. There are a few types of SMS packages that you can get for their choice. Here are Zong SMS packages:
Zong Daily SMS Packages
Zong offers some very attractive daily SMS packages for users who like to use social networking sites. If you have a combination of WhatsApp or Facebook, the SMS package will be more affordable.
If it's not very social, but you need some MB to verify the status or loading status of WhatsApp, these SMS packages are for you. SMS is enough for your daily needs.
Name
Charges
Code
Details
Daily Zulu SMS Package
Rs. 4 + Tax
Dial *704#
500 SMS
Daily SMS + WhatsApp Bundle
Rs. 3.99 + Tax
Dial *700#
500 SMS + 30 MBs WhatsApp
Dail *102*1*# for remainings

Zong Weekly SMS Packages
Zong offers some very affordable weekly SMS packages for its valued customers. If you want to chat with your friends and family, these SMS packages are for you.
In the weekly Zong SMS package, there are a lot of text messages to meet your needs this week. You can send as many messages as you need. The following is a detailed description of these packages with duration and activation code.
| | | | |
| --- | --- | --- | --- |
| Name | Charges | Code | Details |
| Weekly Sms Package | Rs. 21 + Tax | Dial *702# | 1,500 SMS + 200 MB Whatsapp |
| Shandaar Haftawaar Offer | Rs. 120 + Tax | Dial *7# | 500 SMS, Minutes, Mbs, and 40 off-net minutes |
Zong Monthly SMS/Whatsapp Package
Zong offers unlimited text messages in your monthly SMS package. These are great for users who like to send messages to family and friends. If you are more worried about your pocket, you will definitely prefer the zong monthly SMS package instead of the weekly and daily SMS packages.
These are cheaper and easier to obtain. The monthly SMS package prevents you from worrying about subscribing to SMS packages. The following is a detailed description of the Zong SMS cube.
| | | | |
| --- | --- | --- | --- |
| Name | Charges | Code | Details |
| Zong Shandaar Offer | Rs. 300 | Dial *1000# | 1000 SMS, Minutes(On-net 100 minute), MBs |
| Zong Super Card | Rs. 650 | Dial *50# | 2500 SMS, Minutes(On-net 150 minute), MBs |
| Monthly Sms+Whatsapp Package | Rs. 50 + Tax | Dial *705# | 500 SMS/day + 30 MBs For 30 Days |
Zong 3-Months SMS Packages
For some important clients of SMS who need the SMS power to advance their business through SMS, Zong telecom brings a 3 months SMS package.
The bundle incorporates different advantages to satisfy the entirety of your needs. On the off chance that you would prefer not to buy in, over and over, the 3-months SMS pail is most likely for you. Look at it.
| | | | |
| --- | --- | --- | --- |
| Name | Charges | Code | Details |
| Power Pack | Rs. 1500 | Dial *1313# | 3000 SMS |
To unsubscribe or deactivate any of the above packages, Send 'unsub' to 700, and to check the remaining sms dial *102*1*#.
Postpaid SMS Packages
Zong SMS packages are also available for postpaid users. These are superbly appropriate for clients who are partial to informing their loved ones. These are monthly-based sms packages. You can check them below:
Quantity/Month
Charges
Code
300
Rs. 25
*567#
700
Rs. 50
*567#
Unlimited
Rs. 90
*567#
Validity is 1-Month
Also, Read Zong Call Packages and Zong Tv. For official details of packages visit Zong and to check your balance dial *222#. For any additional help about Zong SMS packages call 310.