Whatsapp is very common and famous for every type of communication in our life. Jazz WhatsApp packages are very affordable for customers to remain active on social media for daily, weekly, and monthly time periods. Jazz users that are using prepaid sims can take advantage of these packages and offers.
All the Jazz users can use WhatsApp to connect with their friends and family every time. They can share photos, can make audio and video calls. So, those people who mostly use Whatsapp for their communication can check Jazz WhatsApp packages because they are specially designed for them.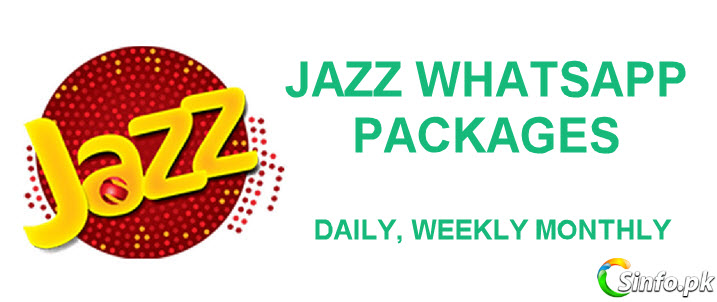 Jazz offers a family of internet packages for prepaid and postpaid customers but prepaid users enjoy more and low price packages with Jazz. With some internet packages, Jazz also gives free Mbs to use WhatsApp.
So, now we will review their speedy and comfortable daily, weekly, and monthly Mobilink WhatsApp packages. You can also find their subscription codes here easily.
Jazz Daily Whatsapp Package
In the daily package, Jazz only offers an Internet package containing a few data and many text messages. However, this can help you to make audio and video calls for free of cost and you can also view the status on WhatsApp.
This package is suitable for those users who only want to use Whatsapp for only some messages because this package includes 1800 SMS for all networks. And these messages can be used anywhere and anytime in a day.
With this package, you will also get the SMS bundle to send free messages. Check Below the subscription code and price of the Jazz Daily Whatsapp Package.
| | | | |
| --- | --- | --- | --- |
| Name | Price | Code | Sources |
| Daily Whatsapp & SMS | Rs. 6 | *334# | 10MB + 1800 SMS |
| Jazz Daily Whatsapp Offer | Rs. 2 | *311# | 200 MB (WhatsApp) |
Dial code *334*4# to unsubscribe this package
Dial *334*3# to check remaining data
The validity of this package is 24 hours
Jazz Weekly Whatsapp Package
In the Weekly Packages, Jazz also offers some very convenient and economical WhatsApp packages for their users. Those users who can't subscribe to the Jazz Whatsapp Packages every day, they can get these offer to enjoy a full week.
Some packages do not provide enough internet data for users who are ore social actives. Check below the price and subscription code and incentives of Jazz weekly Whatsapp Package.
| | | | |
| --- | --- | --- | --- |
| Name | Price | Code | Sources |
| Weekly Whatsapp & SMS | Rs. 20 | *101*1*07# | 25 Mbs + 1500 SMS |
| Jazz Whatsapp and Social | Rs. 89 | *660# | 5 GB (IMO, WhatsApp, YouTube & Facebook) |
Dial *code*4# to unsubscribe these package
Dial *code*3# to check remaining SMS and data
Jazz monthly social package status code *661*2#
The validity of this package is 7 days
Jazz Monthly Whatsapp Package
Mobilink Jazz offers very good monthly WhatsApp packages for users so they can spend very little time subscribing to packages again and again.
For WhatsApp users, using this affordable WhatsApp package is a costume. So, these monthly WhatsApp packages are the best for those Jazz users who use WhatsApp 24/7 a month.
During the month you have a very high amount of data to share documents, audio, and video files without disturbing. Check below the details of the Jazz monthly Whatsapp package.
| | | | |
| --- | --- | --- | --- |
| Name | Price | Code | Sources |
| Monthly Whatsapp Package | Rs. 70 | *101*1*02# | 5000 MB + 12000 SMS |
| Monthly Social Package | Rs. 99 | *661# | 5 GB DATA (WhatsApp, Facebook & IMO) + 12000 SMS |
Dial *101*4*02# to unsubscribe Jazz Monthly Whatsapp package
Dial *101*3*02# to check remaining SMS and Internet data
For more details about the Monthly Package visit Jazz's official site here.
Visit Jazz eCare to subscribe to these packages or to check the remainings. Also, check more Jazz Internet Packages and SMS Packages.
Mobilink Jazz is Pakistan's largest mobile operator with more than 59 million users. Since more than 20 years ago, Jazz maintains a leading position in the market through joint concept solutions, the most powerful brands, and the largest combination of digital value-added services.
Term and Conditions
Some terms and conditions are given below.
The offer is subject to change at any time without any notice.
Re. 5/MB will apply if you don't have any internet package.
Rs. 0.06 are the charges to check the remaining Internet MB and validity.
The actual internet speed will depend on a variety of factors, such as devices, pages visited, distance to 2G / 3G and 4G positions, and more.
Unreasonable calls and SMS can be reported by sending a sender's number (SPACE) to 9000 – PTA