If you have a number code and want to know from which network this code belongs then you came to the right place. Here you will find Jazz, Zong, Telenor, Ufone, and Warid network code series list and can easily identify a number.
Actually, this is very simple and you don't have to be confused about a number because all the networks have their specific sim codes. So, you just have to remember the network series starting code and you will find out the network of a number.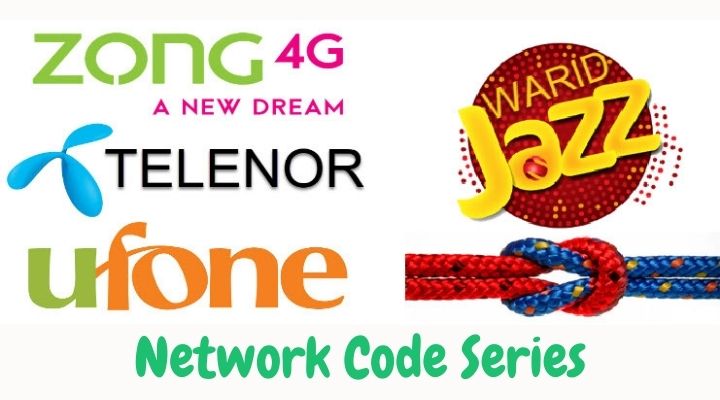 Here we will also know about all the networks working in Pakistan and their all sim codes. I have already mentioned five of them above and there is also one more that we will discuss at the end. So, here are the network code series.
Jazz Network Code Series
Any sim number that starts with the code series 030X belongs to the Mobilink Jazz Network. So, now you can remember, 030X is of which network code. Here is the Jazz network codes list:
| | | |
| --- | --- | --- |
| Network | Series | Code |
| Jazz | 030X | 0300, 0301, 0302, 0303, 0304, 0305, 0306, 0307, 0308, 0309 |
You can also order Jazz sim online and can choose the available numbers from this series. You can dial *5299# code for home delivery of the sim card. And you can order any type of sim like prepaid, postpaid, and data sim.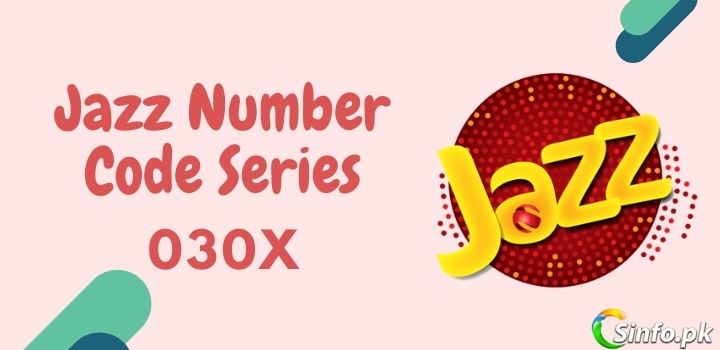 Today, Mobilink Jazz has more than 69 million loyal customers in thousands of cities in Pakistan. Jazz has never deviated from the core of its commitment to connecting and empowering people throughout the world.
Due to these standards, Jazz has become the No. 1 network in Pakistan. However, it is not only the state-of-the-art technology that makes Jazz the market leader in this country but the endless efforts of their employees.
Jazz provides all types of packages including call, SMS, and internet. Any Jazz user can enjoy high-speed 4G internet with less price with Jazz. Jazz always cares about its customers and provides the best services.
Zong Network Code Series
Any sim number that starts with the code series 031X belongs to the Zong Network. Now, you can easily find that 031X belongs to which network code. Here is the Zong network codes list:
| | | |
| --- | --- | --- |
| Network | Series | Code |
| Zong | 031X | 0311, 0312, 0313, 0314, 0315 |
Zong also provides the facility of online sim booking through their website. you just have to fill out the required information and the sim will be delivered to your address without visiting the franchise center. And one more thing is that 0316, 0317, 0318, 0319 codes don't belong to any network including Zong.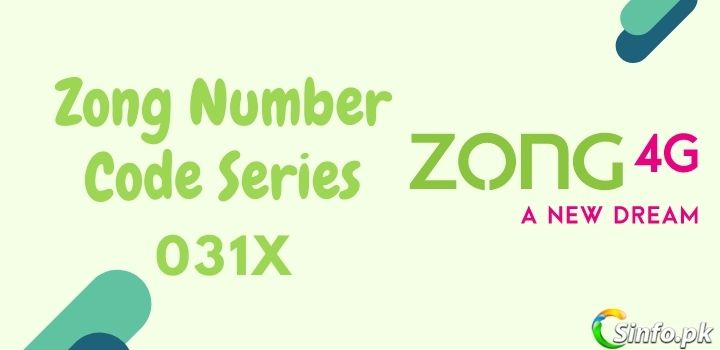 With a market share of only 2% in 2007, Zong has grown exponentially in recent years, increasing by 10 times to around 20%. Zong has the largest 4G user group the widest 4G coverage in the country and an unprecedented level of 4G coverage and connectivity.
Currently, Zong is committed to providing cellular mobile voice and data services to the Pakistani market through 2G, 3G, and 4G technologies. It is a testament to our commitment to providing customers with stable, affordable, and reliable services.
Telenor Network Code Series
Any number that starts with the code series 034X belongs to the Telenor Sim Network. So, It is very easy to remember that 034X is of which network code. Here is the Telenor network codes list:
| | | |
| --- | --- | --- |
| Network | Series | Code |
| Telenor | 034X | 0340, 0341, 0342, 0343, 0344, 0345, 0346, 0347 |
You can find more details about Telenor sim codes on their sim order page. You can also order a Telenor sim online by your favorite code. And you can also upgrade your old sim to Telenor 4G by applying online.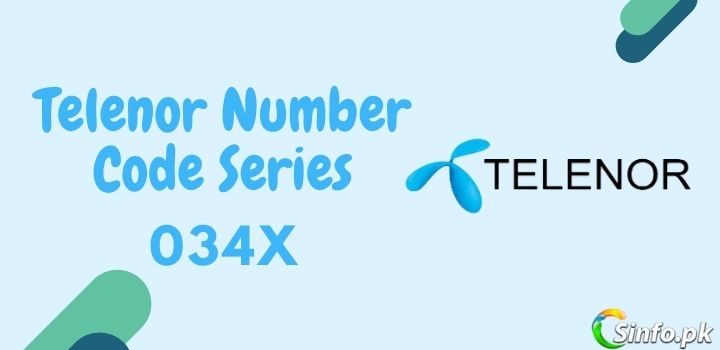 Telenor Group is a leading telecommunications company in the Nordic countries and Asia, with 188 million customers and annual sales of approximately US $ 14 billion. It is also the fastest-growing network in Pakistan.
Telenor regards art as an indispensable part of the work environment and has created its own concept and cultural encounter. Because creativity and innovation are important in technology, aesthetics, and art. Also, check Telenor internet packages.
Telenor provides a wide range of value-added services and other offers at the most affordable rates. Their prices are very competitive compared to other networks working in Pakistan.
Ufone Network Code Series
Any sim number that starts with the code series 033X belongs to the Ufone network. And you can easily remember that 033X is of which network code. Here is the Ufone network codes list:
| | | |
| --- | --- | --- |
| Network | Series | Code |
| Ufone | 033X | 0330, 0331, 0332, 0333, 0334, 0335, 0336, 0337 |
Like all the other networks, you can also order ufone sim online. You can choose your number online and that number sim will be delivered to you. Even more, you can search a specific number and can choose that if that is available.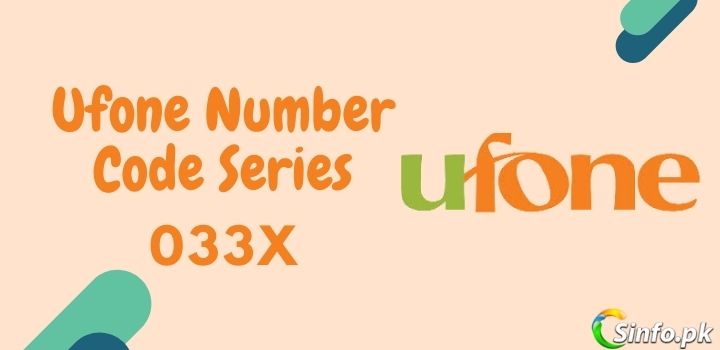 Pakistan Telecom Company Limited (PTCL) started its telecommunication business under the Ufone brand in January 2001. In 2006, Ufone has become a part of Etisalat and continues to provide services with greater intensity.
Ufone always focuses on its customers, digital innovation, and high-quality services. Ufone has established a user home of more than 5 million in less than ten years. It has solid network coverage in the main cities and rural centers of the country and covers all the main roads, and it grows.
Warid Network Code Series
Any number that starts with the code series 032X belongs to the Warid network. So, now you know, 032X is of which network code, right? Here is the Warid network codes list:
| | | |
| --- | --- | --- |
| Network | Series | Code |
| Warid | 032X | 0320, 0321, 0322, 0323, 0324, 0325 |
You may be aware that Jazz and Warid are now merged so any Warid number code is also considered as the Jazz network code. All the functionalities are the same as they were previously but with improved connectivity and offers.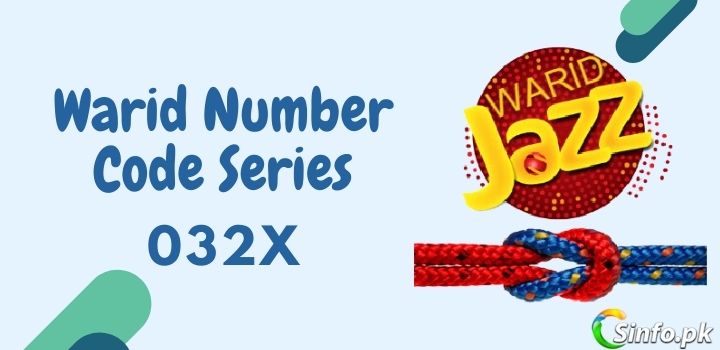 So, now Warid doesn't exist in Pakistan, if you have old Warid sims you have to go to Jazz franchises for any type of help. All the Jazz call, SMS, and internet packages can be activated on Warid sim without any problems.
SCO Network Code
SCO network only has one code that is 0355 because this is a very small network and it doesn't have too many users. Check SCO's official website. Here is the SCO network code:
| | | |
| --- | --- | --- |
| Network | Series | Code |
| SCO | 035X | 0355 |
SCO is working in Jammu and Kashmir and GB (Gilgit Baltistan) to provide the best communication in this region. SCO is focusing on providing millions of people with the best quality data coverage and services at reasonable prices.
This was all about network codes series so now you can easily identify the network of a number. So, if you find this information helpful, share it with your friends and family. And if you need any additional information, you can comment below.