With Zong sim lagao offer Now Zong is providing exciting offers to its customers who had not used their sims for the last 30 days. Zong customers can enjoy the best calls, text messages, and Internet Mbs by dialing zong band sim offer code.
The customers who did not use their sims for the last 30 days can get free 6000 Zong minutes, SMS and 3000 MB 4G Internet data for 60 days. Even more, these resources will be available on a daily basis in parts for Sim Lagao Offer.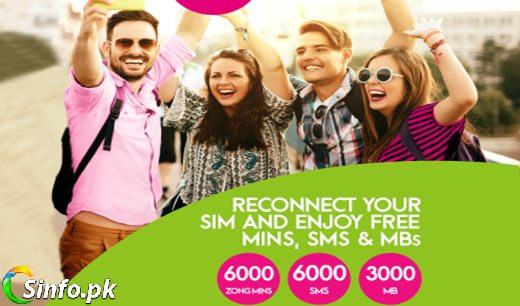 Zong China Mobile is a Pakistani mobile network working in Islamabad. It has many offers packages which include voice, SMS and Internet data services for both prepaid and postpaid customers. This company has more than 26 million users in Pakistan with the fastest 4G Internet.
Zong Sim Lagao Offer
Zong provides amazing offers for its valuable customers. Thus simply activate your Zong sim to get free rewards by Zong sim lagao offer.
If you have an inactive Zong sim and have not used it for a month, you get these free resources. Because this offer applies to all prepaid customers which can get free minutes, SMS and free Zong internet data for a period of 60 days.
| | | |
| --- | --- | --- |
| Offers | Quantity | Validity |
| Minutes | 100 | Daily |
| SMS | 100 | Daily |
| Internet MBs | 50 | Daily |
Customers will get 100, Zong minutes, 100 SMS and 50 MBs daily for
You will get all these free offers on a daily basis for a period of 60 days
The offer incentives can be used after 4:00 PM
How To Activate Zong sim Lagao offer
This offer is valid only if the customer has not used his SIM for 30 days
You must recharge your account balance of 50 PKR
Just dial *2244#
After this, you will get a confirmation message and you can enjoy Zong band sim offer.
How To Check Remainings
Dial *102# to check your remaining minutes, SMS, and MBs for Zong sim lagao offer. Finding the remaining Zong resources such as minutes, text messages or MB is very easy with this code.
| | |
| --- | --- |
| All Details | *102*1# |
| Free Remaining Minutes | *102*2# |
| Free Remaining SMS | *102*3# |
| Free Remaining MBs | *102*4# |
By dialing the code *102# *1#, you will get a message which will show you all the remaining minutes, text messages and Mbs. After dialing this code, you will receive a message that will remind you of the remaining data on the Zong SIM card. Check zong codes below or visit Zong remaining check code.
Zong is Pakistan's 2nd largest mobile network with more than 59 million users. And its Zong sim lagao offer is very best for all new customers. Check also Zong Call Packages and Zong balance share service.
Since more than 20 years ago, zong keeps a leading position in the business through joint concept resolutions, the most powerful brands and the largest joining of digital value-added services.
Terms and Conditions
Terms and conditions applied
The offer is for prepaid handset subscribers only
This offer is only for prepaid Zong customers.
Postpaid customers cannot apply for this offer
Download My Zong App for easy access to Zong sim Lagao offer
Using SIMs without proper documentation is a crime – PTA
Unwanted and unreasonable messages can report by texting the SENDER's NUMBER to 9000 –PTA