Zong Loan Code is *911# and here we will discuss How To Get Zong Advance Loan. You can use the Advance Balance, called a loan or rescue service, in case you run out of balance in your Zong sim.
So, Zong is a China Mobile Corporation and it provides calls, SMS, and internet services to the Pakistani market through 2G, 3G, and 4G technologies.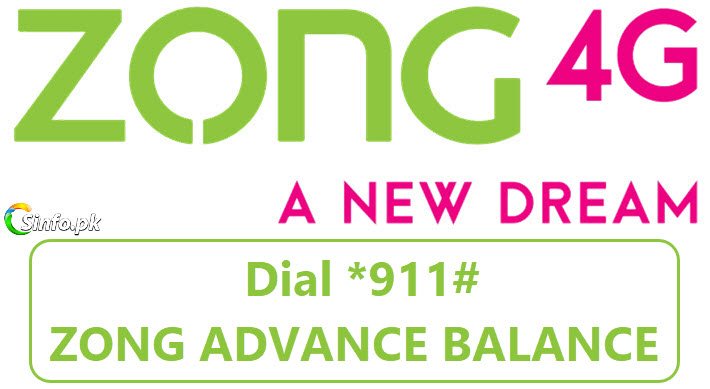 Zong Loan Code
Zong loan code is *911#. With this loan service, you can easily get Zong advance loan. To get the Zong balance in advance, your sim balance must be below Rs 10.
After using Zong Advance Code, your account must be recharged within the last 30 days. Zong Loan will be deducted automatically each time you recharge your SIM card. This loan is also subject to standard taxes.
Zong has more than 26 million users in the market of Pakistan. Currently, 4G coverage has expanded to more than 100 cities in Pakistan. The goal is to extend 4G LTE services to more regions in Pakistan, providing users with faster, broader, and good data quality experiences.
How To Get Zong Advance Balance
Dial Zong advance balance code *911# to get the free balance
Or you can send a blank SMS to 911 and you will receive a confirmation message.
After this, Soon you will get the advance balance of Rs. 25 in your account.
Rs. 3.5 are the charges to use Zong advance Balance loan code service
Send Unsub to 911 to unsubscribe
And postpaid customers are not eligible for this service
The service charges are Rs. 3.5. So Rs. 28.5 will deduct on the next recharge
To get more information about Zong advance balance and loan code go here. Also, check Zong Internet Packages.
Terms and Conditions:
Terms and conditions applied
Visit Zong for more information
Rs.1 per MB will apply for standard internet use without any internet bundle
Please call on Zong helpline 310 for any additional information
Dial *222# to check your balance after dialing Zong loan code
Using SIMs without proper documentation is a crime – PTA
Unwanted and unreasonable messages can report by texting the SENDER's NUMBER to 9000 –PTA