Jazz has launched his new anniversary gift bundle offer by which customers can get free minutes, SMS, and Internet Mbs Data for one week. Jazz and Warid customers can enjoy this offer.
For this offer you have to dial *505#, Customers will be able to use the 25th-anniversary offer Jazz. This Jazz gift bundle offer is at discount right now.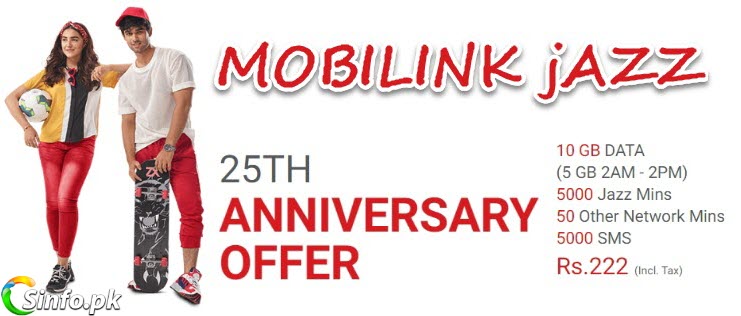 You will get all the resources as you subscribe to this offer and will expire at 23:59 hours on the 7th day of the calendar. The free minutes, SMS, and Internet data can be used at any time 24 hours a day. Free minutes are useable for both Jazz and Warid customers.
Jazz Anniversary Gift Offer
Here is the Jazz free gift code is *505# but this offer provides a good discount and it is not totally free. Just dial this code to get 5000 minutes, 5000 SMS, and 10 GB internet MBs. Here are the details of the Mobilink Jazz gift bundle new code.
| | | | |
| --- | --- | --- | --- |
| Minutes | SMS | Internet Data | Charges |
| 5000 + 50 Other Networks | 5000 | 10 GB (5 GB 2AM-2PM) | Rs. 222 (Inc. Tax) |
This gift bundle will not re-subscribe automatically but it allows you to subscribe to it multiple times. There is no call setup fee for this bundle. However, you should have a balance of Rs.0.15 to make calls without problems. This is a limited-time offer so subscribe to it right now and enjoy its features.
Send Jazz Free SMS Gift to Friend
Mobilink has started offering an incredible Jazz Gift Bundle. Mobilink is the first to offer Bundle a great gift for their friends. Therefore, Mobilink customers can easily send 7000 MB of 4G mobile Internet data and 1000 text messages for Rs.60.

This strategic direction of Jazz makes them one of the key employers selected in the country and summarizes the philosophy. Each of the jazz employees lives better with passion every day.
The attraction of this offer is that the person receiving the gift can receive the offer without paying a penny. Thus, Mobilink Gift Bundle New Code is here. *5555# gift code is not available anymore with Jazz 4G.
And he is inspired and trained by visionary insights, to experience a unique professional and ethical culture. Check more details of the Mobilink gift bundle offer code are given here. So, avail of this offer for your friends and family to send them this offer. Also, check Jazz Eid offer.
Jazz Gift Bundle New Code
Even more, your friends and family or loved ones can also avail Mobilink Free Gift Bundle:
7000 MB (2G & 3G/4G) Internet
1000 SMS (All Local Networks)
How To Send MBs/SMS
You can Dial *389*Friend's Number# i.e. *389*Number#
In the next step, the customer will receive a confirmation message
As a reply to the received confirmation message
The customer will need to reply with 1 in order to confirm the transaction
Hence, your friend will receive the Gift offer of 7000 MB Internet + 1000 SMS
To check remainings of Jazz Gift Bundle, Dial *385*2#
How to Unsubscribe
Dial *385*4# to deactivate the Jazz Gift Offer
The default rate for internet usage without any bundle is Rs.5 per MB + tax. Also, Check Jazz free internet code and Jazz work from home bundle.