By Zong eCare Account Sign up any customer can check his call SMS and internet history easily. Just login to your Zong e care and manage your sim online. This eCare portal is very easy to use and it is available for all prepaid and postpaid customers.
With Zong eCare, Zong customers can easily manage their sim online. They can check their sim number details, active promotions, and packages. You can also recharge your Zong account using this online service.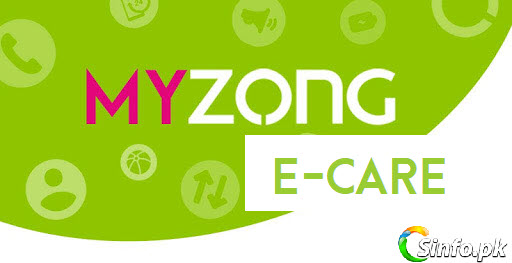 This eCare account allows any user to check his call log details day by day, SMS details, and internet history. Also, they can access the bill details of their usage and the payment history of their sim.
Zong customers can easily use their online accounts, so they can manage their Call, SMS, and other details of any month on fingertips. This useful ecare service is not only for postpaid customers as prepaid Zong customers can also check their full account details and related history easily.
So, here we will discuss Zong ECare Portal account full details. Zong China Mobile is a Pakistani mobile network working in Islamabad. This company has more than 26 million users in Pakistan.
Zong eCare
Finally, we are about to discuss ecare services But eCare is a feature that is very easy to use and any customer can access all sim details. Here is how to login to Zong eCare.
To access zong ecare account, go to this Login portal Page.
Enter your mobile number and complete human verification using characters from the picture.
In the next step, you will get a pin on your mobile number.
Just enter this pin and access your sim online. Note, don't share this pin with anyone.
Now, you will be on your dashboard where you can check your balance, any active package and promotion, and other services.
Here, you can check all of your sim details and can activate new packages very easily.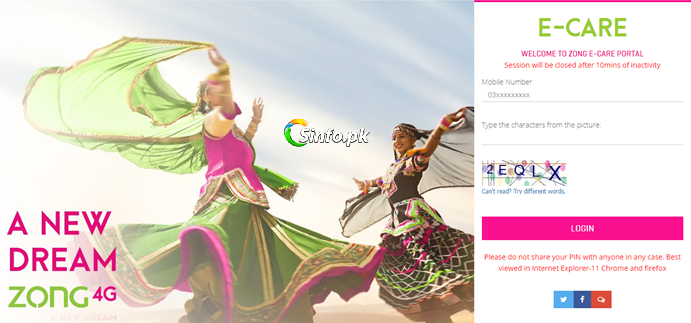 Online Session will be closed automatically after 10 minutes of inactivity
For best view use Internet Explorer-11 Chrome and Firefox.
Zong eCare Account Features
Here are some features by which you can make your account more useful and easy to use. And you will also learn here how to check Zong call, SMS, and internet history using this zong care portal.
Users can check their Zong SIM details easily
View your Zong Call History day by day
Also, Check Zong Internet and SMS History with Zong eCare
View your Payment History or Monthly Bills Details
You can also  view how much you have used your active Package resources
Check your Free SMS / Minutes Left of any package
It allows changing the activated Service easily
You can recharge your account balance either by online service or by Card Recharging service
You can also make a Complaint on this portal
Call History
This part will show all incoming, outgoing, and missed calls. You can get information about call duration, duration, and date. Therefore, you do not need to view the call log on the phone at this time. Zong Ecare allows you to view your online call history from anywhere.
SMS History
On the off chance that you send and get an excessive number of instant messages, this Ecare account will tell you of your SMS history. It likewise permits you to check instant messages and instant messages that have been sent to different numbers, including the time and contact number you got.
Internet Usage
Zong Ecare has another fascinating element that it also shows you where and when your internet MBs are used. By this, you can keep track of your internet usage and control in case you run out of MBs. If you want to save your balance when you don't have any package, you can check how to save zong balance.
My Zong App
In keeping view of the usage of smartphones, Zong introduced My Zong App to manage your Zong sim account instead of zong ecare portal. By using my zong app, Zong customers can check their balance, active services, or packages
And you can also subscribe to the new packages with one click just by this app. You can also recharge your account easily with a debit/credit card or by using the Zong card.
This app also provides you the details about the remaining usage like how many remaining minutes, SMS, or internet MBs you have in your account. Some features of My Zong App are given below.
Check the ownership of the Zong sim
Users can check previous calls, SMS, and internet history
It also shows where and when your balance is used
Activate new packages or unsubscribe the active packages
Check remaining usage of free minutes, SMS, and internet MBs.
Recharge your account with Zong card load or using online recharge.
Download App for Android on Play store or for IOS gets it on the App Store.
Terms and Conditions
Terms and conditions applied
So, For any additional information about Zong eCare, please call Zong helpline 310.
Finally, Using SIMs without proper documentation is a crime – PTA
Above all, Unwanted and unreasonable messages can report by texting Sender's Number to 9000 –PTA