Jazz Sim Lagao Offer is right now available for all of those customers who haven't used their jazz SIMs for the last 30 days can enjoy this exclusive offer. By this offer, they can get 3000 Jazz+Warid minutes, 3000 SMS, and 1500 MBs (except 9 pm-1 am) for 60 Days.
In addition to jazz band sim offer, on the usage of Rs. 15 Rupees or more Jazz gives his customers extra minutes, SMS, and internet MBs for 1 day with this offer.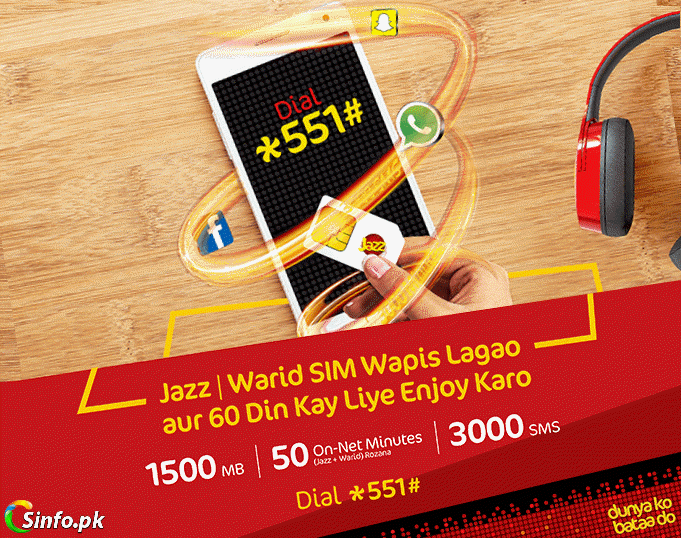 Even more, Subscribers will get 3000 minutes only for jazz and Warid and 1500 4G fastest Internet data by jazz sim lagao offer. Dial *551# to Subscribe to this Mobilink Jazz Offer.
Mobilink SIMs that are not used for the last 30 days, can easily enjoy free minutes SMS and MBs Internet data. That's Jazz sim offer exclusive and customized pricing plans to reduce the overall burden to support customers.
Jazz Sim Lagao Offer
Now all customers who have not used Jazz SIM during the last 30 days can use the jazz band sim offer and enjoy this exclusive offer. Details and subscription code of Jazz Sim Lagao offer are:
| | | |
| --- | --- | --- |
| Offers | Quantity | Validity |
| Minutes | 3000 (Jazz+Warid) | 50 minutes per day (except 6pm-10pm) |
| Internet MBs | 1500 MB | For 60 days (except 9pm-1am) |
| SMS | 3000 | For 60 days |
Even more, On the usage of Rs. 15 or more Jazz sim lagao offer provides his customers an extra 50 Jazz/Warid minutes, 50 SMS, and 50 MBs (except 9 pm-1 am) of internet.
The validity of extra resources is only 1 day. This offer is valid for 60 days Minutes will not be usable from 6 PM – 10 PM. MBs cannot consume from 9 PM – 1 AM.
How to Subscribe Jazz Sim Lagao Offer
Jazz users will need to dial a code *551# to activate this offer
Offer Subscription Charges: Rs. 0.01 (Incl. Tax)
After dialing USSD Code, the customer will get a confirmation SMS that the offer has been subscribed successfully.
Now you can use Sim Lagao Offer on your mobile and can call your loved ones.
Customers will get 50 jazz + Warid minutes daily for a period of 60 days.
This offer is not available on Eid days
Visit the official Jazz website to read more
As jazz is Pakistan's leading mobile operator and digital company. They always promise to provide the necessary tools for millions of people in the evolving smart economy. The first step is to provide uninterrupted connectivity throughout the country.
Jazz always cares about his customers and doesn't want them to switch t another network. So, therefore Jazz launched this offer by which users can again come back to Jazz 4G fastest network in Pakistan. This offer is also for Warid users who have not used their Warid sim.
How To Check Remainings
You can dial the following codes to check the free resources that you got from this offer.
| | |
| --- | --- |
| Check free minutes | *551*3# |
| Check free SMS | *551*3# |
| Check free MBs | *551*3# |
This was all about Jazz Sim Lagao Offer. You can also check Jazz New Sim Offer. Also, check the Jazz balance share service to share your Jazz balance.
Terms & Conditions:
Terms and conditions applied
Internet offer can use and consume in 2G/3G/4G networks areas
For any information about Jazz sim lagao offer call on Jazz helpline 111
Overage of Rs 5/MB applies for all mobile internet bundles
Using SIM without proper documentation is a crime – PTA
Unwanted and unreasonable messages can report by texting the SENDER's NUMBER to 9000 – PTA